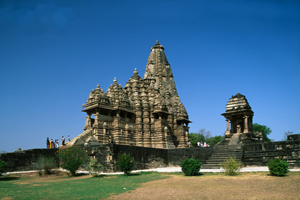 Day 01: Mumbai
Arrival Mumbai, transfer to hotel
Day 02: Mumbai / Ahmedabad
Visit of Mumbai & evening flight Mumbai / Ahmedabad, overnight at hotel.
Day 03: Ahmedabad, city s/s :
Ahmedabad – It was founded by Sultan Ahmad Shah in the year 1411 a.d with blessings of his spiritual adviser Shaikh Ahmad Khattu Ganj Baksha of Sarkhej at the site of an old town of ashawal and karnavati. Ahmedabad grew in wealth and splendour for a hundred years and became the centre of skilled craftsmen and merchants. The ancient monuments in and around the city of Ahmedabad may be broadly grouped under two main periods, the first that of ahmad shah – 1 datable to the first half of the 15th century a.d. , and the second, the period of mahmud begada, datable to the second half of 15th century a.d.
Calico Museum of Textiles – The Calico Museum of Textiles is widely regarded as one of the finest textiles museums in the world. This museum was started in Calico Textile Mill. The museum is housed inside one of Gujarat's famous carved wooden haveli in Shahi Bagh Gardens. This museum was inaugurated by Pandit Nehru in 1948, and is now managed by the Sarabhai foundation. Calico Museum of Textiles has excellent collection of antique and modern textiles including heavy brocades, fine embroideries, sarees, carpets, turbans, rare tapestries, wall hangings, Maharaja's costumes, old weaving machines and royal Mughal tents. It also houses an excellent collection of Jain manuscripts. Closed on Wednesday, prior booking required.
Jama Masjid – The Jama Masjid was built by Ahmed Shah in 1423. The building materials were provided to this mosque by the demolished Hindu and Jain temples. The 260 columns support the 15 domes at different elevations. There were once two shaking minarets, but they lost half their height in the great earthquake of 1819 and 1957. The 2001 earthquake then took its toll, leaving cracks in the masonry and destroying several jails.
Sidi Saiyad's Mosque – Sidi Saiyad's Mosque, close to the river, was once part of the old citadel wall. Sidi Saiyad Mosque was constructed in 1573 by Sidi Saiyad, a sometime slave of Ahmed Shah and a general of Abysinian origin. This mosque is one of the Ahmedabad's most stunning buildings. This mosque is best known for its intricate perforated stone work and has beautiful carved stone windows or jalis which depict the intricate intervening of the branches of the kalpa tree.
Hathee Singh Jain Temple – Hathee Singh Jain Temple is situated outside Delhi Gate, north of the old city. Built by wealthy Jain merchant, this temple is typically made of fine and delicately carved white marble. This Jain temple was built in 1848 and dedicated to Dharamanat, the 15th Jain tirthankara.
Gandhi Ashram – also known as the Sabarmati ashram is located on the banks of the Sabarmati River, about 7 kms north of Ahmedabad. This ashram is one of the important tourist attraction and the beautiful ashram complex of Ahmedabad. This Ashram was set up by the Mahatma Gandhi in 1915 and one of the most moving memorial. This ashram was the Mahatma Gandhi's headquarters during the struggle for India's independence. His ashram still makes handicraft, handmade paper and spinning wheels. His living quarter is still preserved as a small museum and there is a library and a memorial centre.
Veechar Utensil Museum – the only museum in the country showcasing over 3000 utensils used by the various households in India. It's a personal collection of Mr. Surendra Patel who has curated and designed the museum. The museum is a part of Vishalla, a restaurant serving ethnic Gujarati Food. It's a magnificent museum showcasing a very different culture of India.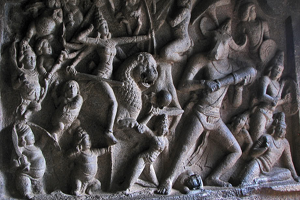 Day 04: Ahmedabad – Patan – Modhera – Dasada : 225 hrs/5-6 hrs
Visit Rani Ki Vav and Patola Art of Weaving, Modhera Sun Temple, Drive to Dasada and Evening Visit to trible Villages, Overnight at Dasada.
Patan – It was reputed as the capital of Gujarat from the 8th century till Ahmad shah moved his seat of power to the larger and more impressive citadel of Ahmedabad in the 15th century. It saw the rise and the fall of the Solanki Rajput dynasty, the strong but short lived 76 year long rule of the Waghela Rajput dynasty and the first few generations of the Muslim Sultanate.
Rani – Ki – Vav (Queens Stepwell) – Located in the heart of the city, it is the greatest reminder of the days when kings and queens ruled here. The stepwell is the oldest and perhaps the grandest among 120 plus step-wells in Gujarat. Built in the 1050 A.D. it is named after Udayamati, wife of Maharaja Bim Deva.
Its massive size is realized when one looks down upon from the top of this medireview masterpiece. The Stepwell was silted up for the centuries ( the secret of its well preserved status) and only a major excavation and restoration work which has helped to capture something of its former glory.
Patola weaving – Patan has always been well known for its ikkat technique of silk weaving. Ikkat weaving involves tie-dyeing the warp threads before weaving to create designs on the finished fabrics. The precise movement of colored threads during weaving gives ikkat designs their richness. A type of ikkat weaving typical of Patan is the double ikkat, which is twice a complex as the single ikkat. Both the wrap and the weft threads are tie-dyed before they are set on the loom. The double ikkat method of weaving is exclusive to a few weavers of Patan, Indonesia and Japan and therefore the patola is of considerable collectible value for textile connoisseurs.
Modhera Sun Temple – Built in 1026 ad during the reign of the solanki king Bhima -1, Modhera Surya Mandir marks the peak of revolution in indo-aryan hindu temple form Typology. It is positioned in such a manner that the rising sun's rays illuminate the deity in the inner most sanctum sanctorum through the main entrance at the time of equinox only. With its grandeur, elegance and clarity it only rivals it contemporaries at Konark and Khajuraho but arguably surpasses them in it symbolic overtones and spiritual setting with placement of the water kund integral to the complex. This temple is dedicated to the sun god, it stands high on an elevated plinth overlooking a deep stepped tank, and both the interiors and the exteriors have exquisitely carved. The temple comprises three separate, axially aligned and integrated elements: Surya Kund, Sabha Mandap and Guda Mandap.
Day 05: Dasada
AM Jeep safari in Little Rann of Kutch to visit wild-ass & migratory birds sanctuary. PM nearby villages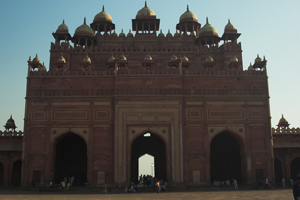 Day 06: Dasada – Bhuj : 275 kms/5.5 hrs
Drive to Bhuj.
Bhuj – Bhuj was founded in 1548 AD by Rao Khengarji I, starting a dynasty of Jadeja rulers that ruled over Kachchh for 400 years. And so, the old walled city of Bhuj is the most important town in the area. The place lies at the heart of Kutch and is linked by many roads to the rest of the peninsula.
Day 07: Bhuj– Banni Village – Bhuj
Full day S/s Banni Villages
Embroidery – The name of Kutch has become famous for its variety of embroideries. Women produce utility articles in their leisure time. The custom of giving embroidered articles to brides also supported the craft. This craft is carried from generation to generation. Embroidered articles form an important part of 'Dowry' given to the brides. Some of the important embriodery work are known as Rabari embroidery, Ahir embroidery, Bavalia embroidery or 'Kutchi Bharat', Sindhi embroidery, Aari work, Soof embroidery also known as 'Sodha Bharat', Mutva embroidery in Banni (Dhorodo village) is famous for Gotam stich or Sindhi Kadai. In Banni area the embroidery work is also done on leather shoes or 'Mojdi', purses bags, belts, wallets etc. Hodko village in Banni is famous for Meghwal embroidery and leather work.
Banni – Banni embroidery with its intricate minute designs in gorgeous colours, is considered to be the most outstanding and exquisite among the different types of Kachchhi. embroidery. This school derives its name from that vast stretch of semi-desert land called Banni. It is represented by the Lohanas of Khavda and the Jats, Mutwas, Harijans etc. of Banni villages.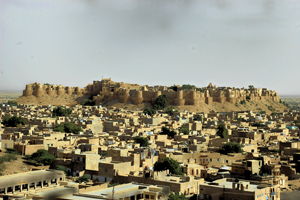 Day 08: Bhuj-Mandvi-Bhuj
Full day visit to villages around Bhuj. Overnight at Bhuj.
Mandvi – Founded in 1581 AD, it has a fortification with 25 bastions. It was an old and historical port from where extensive trade was done between western India and Africa. The place is a well-known centre for the production of the country crafts. The Rukmavati Bridge built in 1883 is the longest existing one of its kind. The Vijay Vilas Palace evokes the royal splendor of the past. Mandvi's Hawa Mahal is also imposing, and is reminiscent of similar palaces of royal traditions of Rajasthan. Banni and Khavda are villages set like jewels in an expanse of desert. In these villages live some of the most talented craftsmen of Kutch who practice their traditional skills, to produce artistic masterpieces.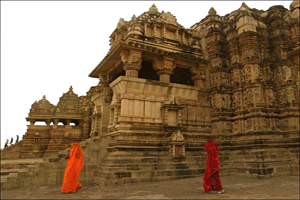 Day 09: Bhuj – Gondal : 275 kms/6 hrs
Drive to Gondal Visiting Morvi Town, overnight at Gondal
Gondal – Amidst the ancient monuments that date back to time immemorial,Gondal is a picturesque town with plenty of gracious architecture, wide tree lined roads and european lamp-posts.
Naulakha palace – The oldest extend palace in gondal, the 17th century Naulakha palace is a festival of stone carvings with exquisite jarokha Balconies, a fabulous pillared courtyard, delicately carved arches and a Unique spiral staircase. The private palace museum has as impressive Display of silver caskets which carried messages and gifts of maharajah Bhagwat sinhji.
Vintage car collection – The royal garages, have an extensive collection of Vintage and classic cars including a 1910 new engine, a deluge and a Daimler from the 1920s, a 1935 mercedes, 1935 packard 2 door convertible, 1941 & 1947 cadillac, 1955 cadillac limousine, jaguar xk 150, chevrolet Etc. Most of these cars are restored and some bear the original gondal State number plates.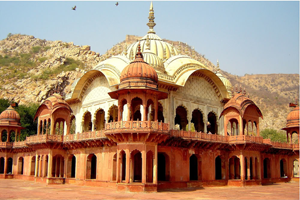 Day 10: Gondal-Junagadh- Sasangir : 175 kms/4 hrs
Drive to SasanGir, Enroute S/s Junagadh Safari and O/n at Sasangir.
Junagarh – Junagadh, was the capital of the Junagadh state, under the muslim rulers of Babi Nawabs. In Gujarati " Junagadh " literally means ancient fort. The Junagadh town is located at the foothills of the sacred hill of Girnar and occupies a special place in the history of Gujarat. The history of Junagadh is chequered by the rules of the Mauryans, Kshatrapas, Guptas, Vallabhis, Chudasamas, Gujarat Sultans and Babi Nawabs. Junagadh, at different times in history, was under the influence of four major religions: Hindu, Buddhist, Jain and Muslims. Both political powers and religious influences enriched the culture and created fantastic edifices leaving their mark on the architecture of Junagadh.
Ashoka's Rock Edicts – Fourteen Rock Edicts of the Emperor Ashoka can be seen inscribed on a great boulder. These ancient inscriptions date back to 250 BC and carry Brahmi script in Pali language. Late Sanskrit inscription were added around 150 AD by Rudrakama and in about 450 AD by Skandgupta. The inscriptions were reported in 1822 by Todd, but really came to light only in 1837 when Rev.Dr John Wilson copied them and in 1843 when the Royal Asiatic Society published them in the Bombay branch journal. The 16 principals preach virtues like mastery of the senses, purity of thought, gratitude, devotion, self-control, secular thinking and kindness, while opposing animal sacrifice and greed. They speak of repentance for death and destruction caused during the wars waged by Ashoka.
Mohabat Maqbara – Maqbars – the older complex offers some remarkable 18th century architecture with vertical columns, delicate carved columns, arches, cornices & domes. The newer complex is a remarkable architectural work with four minarets & pirouetting spiral staircase, a facade rich in stone carvings, beautiful silver door & large size domes. A number of Haveli's are known for their jharokhas & wood carving – specimens of Gujarat domestic architecture.
Darbar Hall Museum – Darbar hall museum dating back to 1870 a.d. offers an insight into the period of Nawabi rule in Junagadh with silver plated thrones, fine carpets, huge chandeliers & a red silk carpet with diamonds like stars of a crimson sky & some carpets lavishly embroidered with gold thread, huge chandeliers, royal armoury, portraits & paintings.
Uparkot Fort – Uparkot, an ancient citadel located on the higher level of the town, was a stronghold of Mauryans and Gupta Empire and is said to have survived 16 sieges in the last 1000 years due to its strategic location and difficult access. The entrance of Uparkot has a fine specimen of Hindu Toran, leading of flat land dotted with archeological sites. The major sites are Buddhist caves, Baba Pyara Caves (2nd century), Adi-Kadi Vav, Navghan Kuvo and Jami Masjid.
The Buddhist caves are fine examples of rock cut architecture with ornamented pillars, carved entrances, water cisterns, chaitya hall, and monastic cells for meditation and chaitya windows. Adi-Kadi Vav and Navghan Kuvo were built by the Chudasama Rajputs and unique water structures among the numerous step wells of Gujarat. The Adi-Kadi Vav (15th century) has a long flight of 120 steps leading to water, while the Navghan Kuvo ( 1026 a.d) is hewn from the soft rock and is 52 meters deep, reached by a circular staircase winding around the shaft. Another interesting artifact from past is "Milam" canon, brought to Dui from Egypt to fight against the Portuguese and it was manufactured by the order of Suleiman, the magnificent, King of Turkey.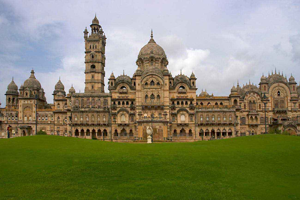 Day 11: Sasangir-Somnath-Diu : 125 kms/03 hrs
Drive from Sasangir to Diu visiting Somnath Temple, Overnight at Diu.
Somnath Temple – Somnath is one of the 12 jyotirlingas of lord Shiva. In the Shiva Purana and Nandi Upapurana, Shiva said, `I am omnipresent but specially in 12 forms and places, the jyotirlingas`. Somnath is one of these 12 holy places. Today, Somnath offers a holy pilgrimage, a beach holiday and a number of places of historic, religious or scenic importance.
The shore temple of Somnath is believed to have been built in 4 phases-in gold by Lord Soma, in silver by Ravi, in wood by lord Krishna and in stone by Bhimadeva. Tales of its riches brought in a series of invasions, but each time the temple was raided, whether by Muhammad Ghazni who took back the silver doors and treasures or by Aurangzeb in a fanatical vein, it was restored by zealous Hindu worshippers to its original glory.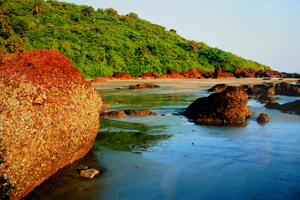 Day 12: In Diu – relax at beach
Diu – Diu was a Portuguese colony until it was taken over by India in 1961 and was made a Union Territory rather than as part of Gujarat. The former colony includes the island of Diu itself, about 13km long and three km wide, separated from the coast by a narrow channel. There are also two tiny mainland enclaves. One of these, on which the village of Ghoghla stands, is the entry point to Diu if you arrive through the town of Una.
Churches – Diu Town has three churches, although only one is fulfilling its original function. St Paul's, this wonderful old church is suffering serious neglect, with beautiful old paintings slowly disintegrating, but it is still a peaceful place. Nearby is St Thomas' Church, which houses the Diu Museum. There's an interesting collection of Catholic statues of the island from the Portuguese.
Diu Fort – It is an impressive and imposing structure situated on the coast of the island. It was built by the Portuguese Governor Nuno-Da-Chuna in 1535. As it is surrounded by the sea on three sides, it commands a magnificent view of the sea. The fourth side has a canal around it.
Fudam Church – The ruins of the Fudam Church still remind one of its old glory Fortum Dumar. "Panikotha" as it is called by the locals is a mini fort in the sea. Panikotha is a ship-like concrete structure constructea on a rock surrounded by sea on all sides.
St. Paul Church – Built in 1691, is a pearl oyster shaped St. Paul's Church, dedicated to our Lady of Immaculate Conception with a fine baroque facade and impressive wood paneling. The main facade of the church has an impressive Gothic architectural style.
Day 13: Diu – Palitana : 200 kms/4.5 hrs
Drive to Palitana O/n Palitana.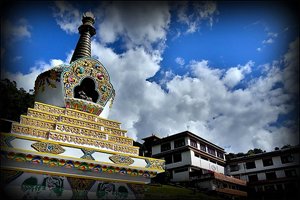 Day 14: Palitana
Visit Jain Temples at Palitana, Overnight at Palitana.
Palitana – Palitana is a major tourist destination for those who want to witness a unique fusion of human enterprise, architectural skills, philanthropy and religious fervor. The town was an imperial Thana during the Mughal era, which grew into the capital of Palitana State of the princely Kathiawad. Today, the temple-clad summit of Shatrunjaya offers a breathtaking spectacle for the tourists and visitors alike.
The entire summit of the majestic mount shatrunjaya is crowned with about 900 temples, each rivalling the other for beauty and magnificence, presenting an awe inspiring spectacle to devotees and visitors. The Mountain is associated with rishabhdev, the first tirthankar; also known as adinath.the summit is divided into two peaks, but the valley between has been partly built with masonry by a wealthy jain merchant moti shah. The Entire summit is covered with temples among which the famous are those of Adinath, kumarpal, vimalshah, samprati raja and the chomukh, which is the Highest and can be distinguished from a distance. The multitude of temples, half palaces, half fortresses and made of splendid marble, with their Spires aiming the skies present a spectacle unmatched for its scale and Magnitude anywhere in india. While at top one can visit a muslim shrine of Angar pir. The pir blessings are invoked by the childless women who crave for a child.
Day 15: Bhavnagar- Mumbai – onward destination
Transfer to International airport for flight to onward destination.